Android Thetruthspy Com Free Download
Truth spy app
Download latest version of Microsoft Apps app. Safe and Virus Free. Microsoft Apps Helps you manage, install and access all the Microsoft apps on your device with an intuitive interface. GPS tracker android app free download. The world has shifted to the technology which help you to get connected with your friends, family and coworkers Free Golf GPS Range Finder android app free download Download Waze for Android. Waze is a free social navigation app that connects you to other drivers using real-time road reports.
As you know, one of the main concerns of parents in today's life is children and their safety, and because children are very playful and need to be active, it is much harder to control them. You may have serious concerns about delays in your child's return from school, your child's social media activity, etc., but what can be done to alleviate these concerns? In this article, we will introduce you to one of the best child monitoring applications so that you can use it to monitor children and reduce your worries.
How to spy on a phone?
There are several ways to spy on a person's phone.
The easiest way to hack and spy on a person's phone is to first access his phone and then install the hacking software on his phone. This method is known as the simplest way because it is not very complicated and does not require programming knowledge.
If we want to spy on a person's mobile phone without access to it, we must say that this is not easy to do and requires learning to program, Linux, the basics of hacking, and security.
If a person wants to spy without access to a person's phone, he or she must have acquired programming knowledge and security issues for at least a year to be able to do so.
Here we are looking to get away from the usual complexities of hacking.
So, aside from the programming topics, we will go to the introduction of a program to spy on your spouse or children or colleagues' phone so that you can end your worries and doubts.
spy app '>
TheTruthSpy - CellPhoneSpy Software :
Features of this software:
TheTruthSpy is a very easy-to-installparental controlsoftware that lets you monitor your child's activities remotely by installing it on your child's mobile phone. Some of thesefeaturesare as follows:
Position the phone with high accuracy
Record high-quality phone calls
Record surround sounds
Access to Whatsapp, Viber, Facebook, Skype, Gtalk, Hangout, Yahoo Messenger, and ...
View the content of the email, Gmail, and ...
Browse the history of default browsers, Chrome, Firefox
Access monitor applications
Access images and videos were taken by the target phone
Access all mobile data with their exact time
SIM change notification
View folders and files
Report calls, text messages, and correspondence with friends and contacts
Announce instant location and daily trails
Determining the traffic restriction by announcing the arrival and departure of the specified range
Programs and games used and how long they are used
Smart alerts and screenshots when typing immoral words
Your kids' simple communications are through phone calls. TheTruthSpy provides complete monitoring by reporting incoming and outgoing calls along with the contact's name, contact number, and call duration, as well as reporting manually deleted calls.
Control of sent and received SMS:
One of the communication strategies for children in the family that does not cause any sensitivity is sending a text message; But the TruthSpy software will eliminate any possible worries and concerns in this field by sending a complete report from the list of sent and received and deleted SMS, along with details about the contact's name and the content being exchanged.
Report of social networks Telegram, Instagram, and so on.
One of the most dangerous platforms that your child can face with thousands of people of different age groups, different cultures, and educations and endanger the child's health, is the communication platform of popular social networks such as Telegram, WhatsApp, and Instagram. With TruthSpy, it is possible to monitor and control all social networks.
Moment-by-moment position:
With the help of TruthSpy software, you can be aware of the position of your loved ones at any time and any place, determine the allowed and unauthorized traffic places on the map and be notified immediately if you enter or leave these areas. For example, you can specify the scope of the school and the home route for children, or in similar applications for your marketers, specify the scope of marketing.
Use TruthSpy to specify hours of sleep, homework time, and time allowed to use the device and block access to some applications at the desired times. Control websites visited by your children and block their access to immoral topics.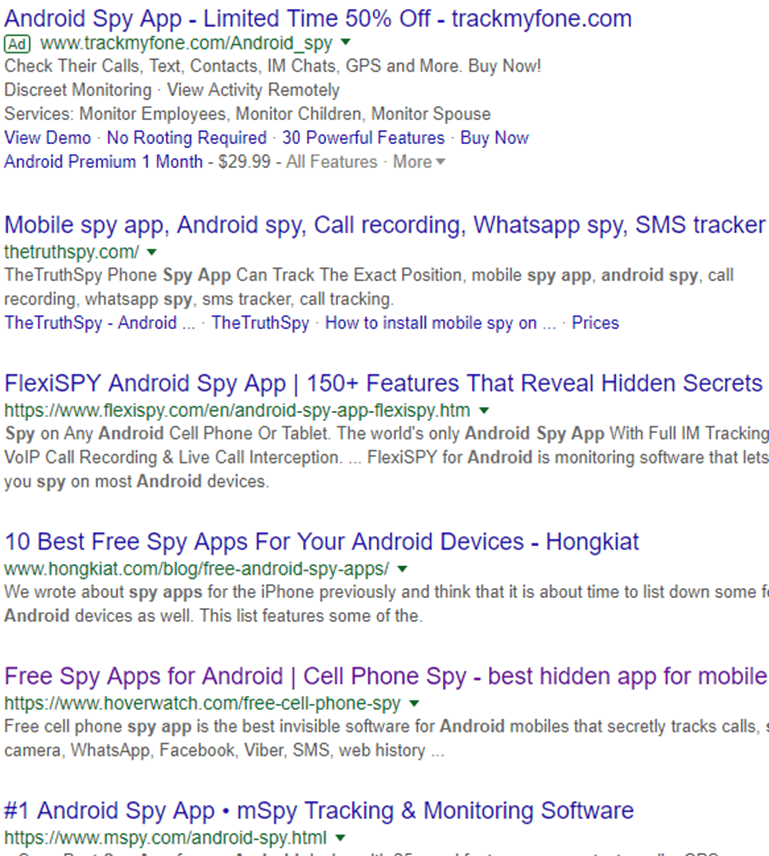 Have a complete list of programs installed on your child or employee's phone and be aware of any inappropriate programs and block them if necessary. You can also specify when to allow them to be used at certain times of the day.
Benefits of TruthSpy for family members:
TruthSpy reports all your children's activities to you, indirectly allowing you to monitor and control your children. It does not matter if you are at work or home; The important thing is that you are always by their side with TruthSpy software.
Restrict the use of applications and the Internet
The full report of all daily communications and correspondence
Determining the allowed traffic range for entry and exit
Elderly people with Alzheimer's disease are adults who need intangible child care and affection, but they cannot be restricted like children or assigned to travel. But TruthSpy software allows you to not only control your children but also to take care of the elderly and people with Alzheimer's disease and be with these loved ones at all times.
View and announce their exact position and moment by moment
Warning of exit or entry into dangerous areas
Ability to declare an emergency and receive ambient sound
Controlling off-site forces and marketers has always been a concern for large collection managers.
Quality control of employees and marketers with the customer ensures the health of your business family.
You can also customize the reporting system settings as you need.
Instant positioning and linear navigation
Determining the range of allowed and unauthorized traffic
Monitor calls and control customer relationships
Conclusion:
One of the biggest concerns parents have about their children is who their teenage son or daughter is hanging out with or who their friends are. Many parents always complain that they are unaware of their child's communication. Hacking children's phones without them realizing it can go a long way in monitoring children. In this article, we introduced one of the bestspy softwarefor parents. We hope you find this article useful.
Are you thinking about trying out theTruthSpy app? If so then you will definitely want to read this article about my "TheTruthSpy Review" to learn more. If you do not want to read this article then you can watch my video about theTruthSpy review in the video above.
What is TheTruthSpy App?
TheTruthSpy App is a spy app. You use it just like you would use pcTattletale to spy on your spouse or kids. The app runs invisibly in the background and you can see what they did from a remote location. If you think your spouse is cheating on you or something is not *right* with your kids then the TheTruthSpy app may be perfect for you.
How Does TheTruthSpy Work?
You install TheTruthSpy app on their phone or tablet. The app runs invisibly and you can see what they did. You view their activity from TheTruthSpy website.
TheTruthSpy App iPhone Support
When I was doing my "TheTruthSpy Review" I was surprised to see they offered iPhone spying. This really surprised me. Why? Because I decided to discontinue iPhone for pcTattletale a few months ago. After looking at it a little deeper TheTruthSpy really does not offer iPhone monitoring either….
Let me explain.
When you look at TheTruthSpy's website they quickly tell you that you need to jailbreak your iPhone. I do not know about you but the idea of jailbreaking my iPhone just to try out their app was a little terrifying. Does this mean anyone can now hack my iPhone? But since I was doing theTruthSpy review I wanted to try it anyways.
The crew over at TheTruthSpy app does not want do the jailbreaking for you. In fact they do not even want to tell you how to do it. You are pretty much left on your own for how to jailbreak your iPhone. They do point you to a website to jailbreak the iPhone yourself:
But when you do this site you find out what you can't jailbreak your iPhone:
Check your iPhone right now. It is probably already running at least iOS 11 or 12. That means theTruthSpy will not work for you or just about anyone else. Apple is very good about getting people to update their phones. Look at the chart below. You will see less than 1 in 30 phones could use TheTruthSpy app on iPhone at the time of writing this article.
So the "Truth" is that TheTruthSpy app most likely will not work with anyone's iPhone at this point. I could not get it to work on my iPhone 6 or anyone else's that I know of because they already upgraded to a new version of iOS.
It is safe to say that this solution just does not work anymore.
Android Thetruthspy Com Free Download
TheTruthSpy Android Support
Much like pcTattletale TheTruthSpy App does work on Android. It has do with Android being a more open platform than Apple's iOS. You install TheTruthSpy app on their phone or tablet. It runs invisibly and you can see who they talk to and what they did on the phone. It will record their GPS location too.
In my TheTruthSpy review I found it works on almost all versions of Android which is a good thing.
The big take away is that you will need to be able to have physical possession of their phone and be able to unlock it to use TheTruthSpy app.
pcTattletale – A Better alternative?
The reason I wanted to do a TheTruthSpy review was to answer all the questions I get about how it compares to pcTattletale. Both Apps are very similar but also have some differences. I wanted to go over the biggest differences here.
TheTruthSpy Device Support
Since neither TheTruthSpy App or pcTattletale work on iPhone I would call them even here. I could have left iPhone on the pcTattletale site even though it *could* still work for some people but I did not feel that was very honest. TheTruthSpy app has left iPhone on their site knowing full well it will not work for hardly anyone anymore.
So the TruthSpy App really only supports Android devices. pcTattletale works on both Android and Windows PCs.
How TheTruthSpy And pcTattletale Spy
TheTruthSpy app takes an approach of getting all the text messages, facebook conversations, etc and showing them to you in a list format. This is nice because you can browse through all the different text message conversations.
pcTattletale takes a very different approach. Instead it records exactly what they are doing on their screen. Why is this important? Because there are always new and unknown apps they are using. TheTruthSpy is limited only to the apps they support.
Consider the new social app called "Tik Tok"
If your spouse is cheating on you with someone over Tik TOK you will never see it with TheTruthSpy app. Why? Because they do not support it. TheTruthSpy app can only record the exact apps is was programmed to spy on.
But with pcTattletale you will see all those important conversations because it is recording their screen. You see everything no matter what kind of browser or new app they decide to use next.
Android Thetruthspy Com Free Download Windows 7
pcTattletale Live Monitoring
One neat feature of pcTattletale is that you can watch what they are doing on their phone in real time using pcTattletale Live Monitoring. TheTruthSpy does not offer this.
Let's say your spouse pulls away from you when a text message comes in. They really do not want you to see it and go in the other room. No problem. Just open pcTattletale on YOUR PHONE and you can see what they are doing on their Phone in the next room. Then you can watch them type out their chats just like you were sitting over their shoulder.
TheTruthSpy Pricing
pcTattletale wins against TheTruthSpy on pricing. See the pricing chart below:
Notice the big difference when you start adding more devices too. pcTattletale is much more affordable than TheTruthSpy App. TheTruthSpy app would cost you $460 to monitor the same 3 devices you get with pcTattletale for $99.
Conclusion
Both pcTattletale and TheTruthSpy app do very similiar spying activities. pcTattletale gives you the addition of spying on Windows PCs. You also can use it on up to 3 devices at a cheaper price than 1 device on TheTruthSpy.
Truth Spy Download
If you have been thinking of giving TheTruthSpy a try why not also give pcTattletale a try? You might find pcTattletale is better suited for your needs and much more affordable too